A quick guide to toothpick bridge projects & challenges
Photo: Career Girls
If you are looking for some fun and creative toothpick bridge project ideas, you have come to the right place!
In this blog post, we will share a number of different designs that you can try with your kids.
Some of them are more challenging than others, so you can tailor this activity really easily to your kids' age and experience level.
We will also provide some tips on how to build a strong and sturdy tooth pick bridge.
So what are you waiting for? Get started today!
Psssttt! Want free activity packs, worksheets, coloring pages, activity books and other printables for kids?

Get access to our secret vault of resources below – yep, it's totally free!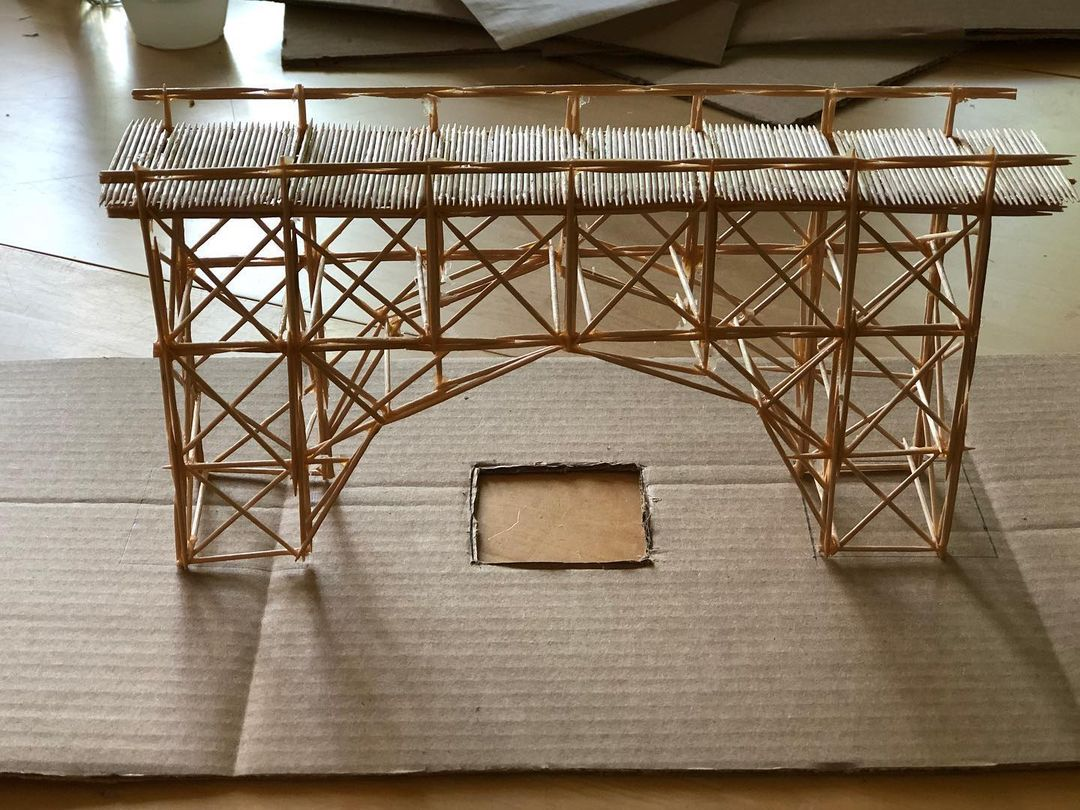 Photo: Serena F Mom of 3
Why build a bridge out of toothpicks?
There are a number of reasons why building bridges out of toothpicks is such a fantastic activity for kids.
Toothpick bridges are:
Fun to build
A great way to learn about engineering concepts
Relatively easy to construct
Very strong and sturdy (when done correctly!)
Because they can bear a surprising amount of weight, making homemade toothpick bridges is a great way for kids to learn about forces and test their physics skills.
Once kids have finished their bridges, they can test their strength by adding weights. They can do this by placing weights on top of the bridges or by suspending weights from the main structure of the bridge.
You can even add a competitive element if working with kids in a group or classroom setting. Set your kids the challenge of seeing who can build the strongest bridges or arches, and put it to the test with some carefully-planned experiments!
Photo: The Science Wall
What you need to build a toothpick bridge
The great thing about toothpick bridges is that you don't need many materials to get started. In fact, all you really need is:
Toothpicks (preferably wooden)
Glue or masking tape/painter's tape (school glue dries quickly and tends to work well)
Weights (to test the strength of your bridge)
Graph paper (grid paper) and pencil
Tracing paper (wax paper)
If you want to add a fun element to this activity, you can replace the glue or tape with marshmallows.
Marshmallows can be pushed onto the ends of toothpicks and used to connect them together.
Miniature marshmallows work best for complicated designs like toothpick bridges.
Find out more about building with marshmallows and toothpicks here.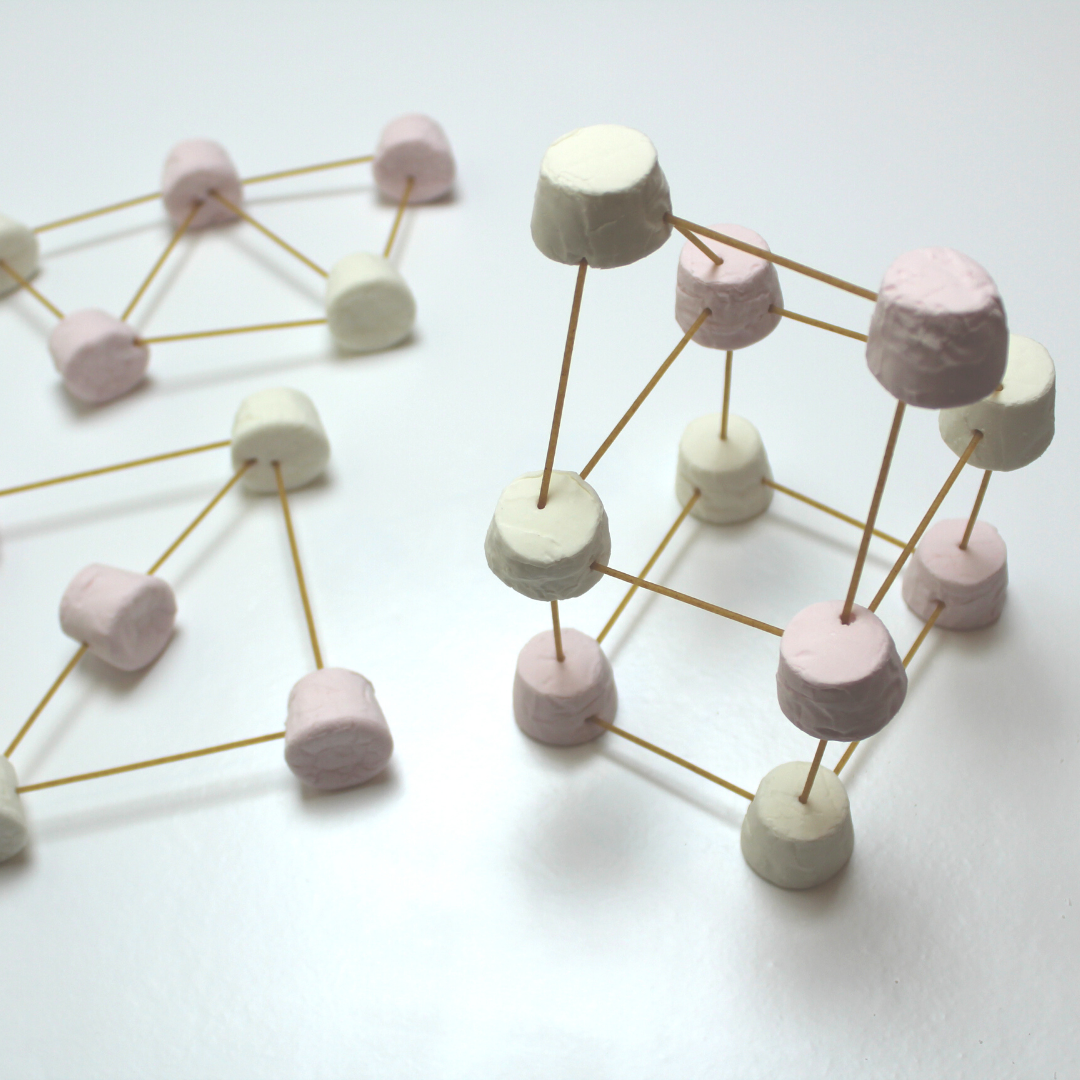 Toothpick bridge design step-by-step instructions
These easy-to-follow instructions can be adapted to suit any toothpick bridges physics class plan or activity schedule.
Once you've decided on the kind of bridge you want to build, it's time to start sketching it out on paper.
This will help you to plan the construction of your bridge and make sure that all of your measurements are accurate.
You can also use tracing paper or wax paper to create templates for your design. This is especially helpful if you are working with more complicated shapes.
The easiest way to build a complicated toothpick bridge is to copy a template you have created and drawn to scale using grid paper. Lay wax paper on top of the grid paper and use paper clips to hold it in place.
You can then simply lay the toothpicks flat on top of the template and attach them using tape or glue.
Repeat the process to create the other side of the bridge!
Once you're happy with both sides of your bridge, add additional toothpicks to connect them to each other.
Wait until the glue dries completely before continuing with construction.
Now is a good time to test the strength of your bridge by adding some weights! Make sure you look carefully for any weak points on your bridge first. You might need to add some more glue or tape to secure these.
When using heavy weights with your bridge, we recommend placing these directly on top of the bridge at the center. Alternatively, you can suspend them from this center point.
Be sure to record your findings and data carefully so you can compare results. This is especially important if you are going to build several different types of bridges, or if you are competing against classmates or friends to build the strongest structure!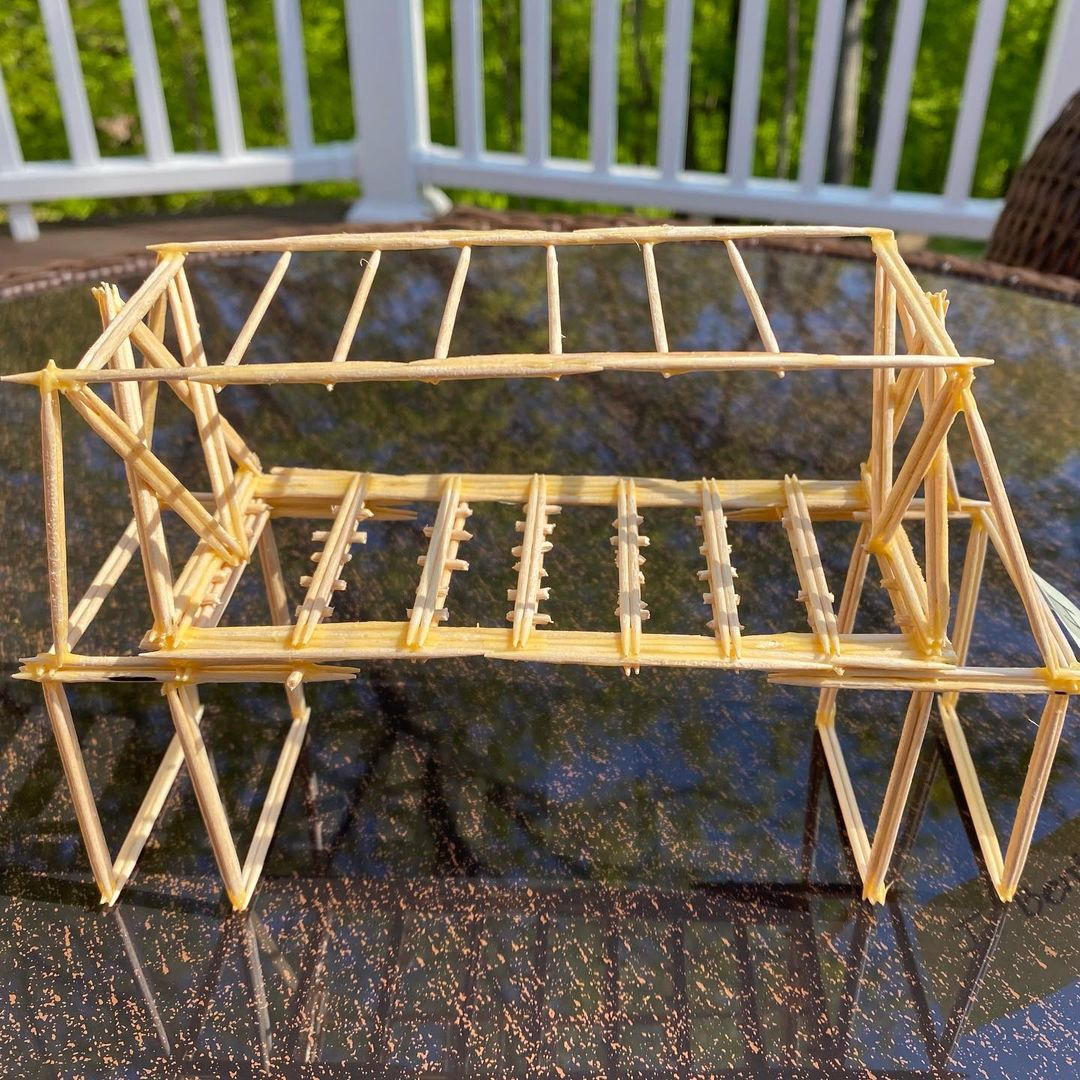 Photo: The Science Wall
What is the best glue for toothpick bridges?
Whilst it's possible to use tape and even marshmallows or gummy sweets to connect the toothpicks to each other, glue is the most popular choice.
One of the benefits of using glue is that once it dries, it is usually more difficult to spot than tape. That allows you to create a more attractive-looking structure.
Liquid craft glue dries quickly and usually adheres well to wood, so that makes it a good choice for making a toothpick structure.
It's also easy to dab a little more on later if necessary too.
One downside of liquid glue is that it can be very messy. It's easy to use too much too, which can add unwanted extra weight to your bridge.
You may want to consider using a solid glue if you want to minimize mess and avoid using too much.
How to build a strong toothpick bridge
If you want to really get some impressive results from this bridge building project, follow our top toothpick bridge tips here:
Opt for a square base at each end of the bridge, as this will give it a stronger foundation.
Make sure you space out and glue the toothpicks evenly so that the weight is distributed evenly too.
When you add tape or glue, try not to add too much. Remember that they will add additional weight to the bridge which could make it unbalanced.
For example, a big splodge of misplaced glue on one side only could make that side heavier and less able to bear weight.
It's also important to wait until any adhesive is fully dry before testing the bridge.
Very gently push against each toothpick with one finger to see if the toothpick stays in place. This will help you to spot any weak points.
If there is more movement than you are happy with, add a little more glue or tape to keep it firmly in place.
Use a tried-and-tested design for your bridge. There's a reason engineers tend to use recognized designs that have been proven to work!
Whilst it can be fun to create your own crazy and out-of-the-box bridge templates, if you want to create a load-bearing toothpick bridge then it's best to copy a traditional design.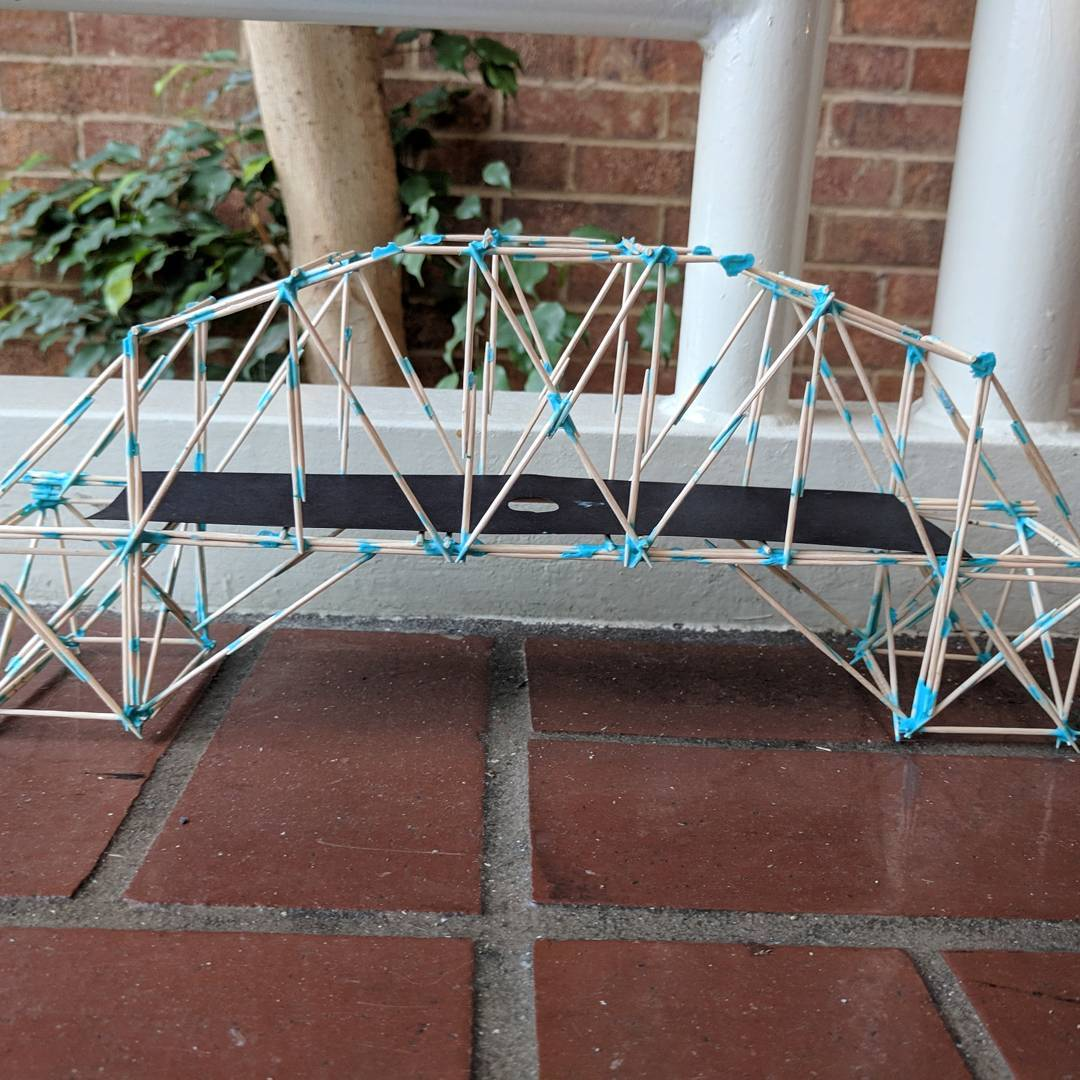 15 toothpick truss bridge design ideas
The most common kind of bridge to make out of toothpicks is a truss bridge.
This is because truss bridges are relatively simple and can hold a lot of weight.
Take a look at the examples below – as you can see, there are so many different kinds of truss bridges!
Some of these are pretty simple to make with toothpicks once you get used to how to connect the toothpicks to each other.
For example, we recommend starting with a more basic structure like a Warren truss bridge.
However, if your kids need more of a challenge, they might want to try a K-Truss or even a lattice design!
They can create their own scale copy of any of these designs using grid paper and wax paper.
To save time (or for kids who need a little more support), you could also enlarge and print out your chosen bridge template. This will allow kids to simply place wax paper over the template and trace or place toothpicks directly on top.
Photo: MSNBC
Impressive examples of toothpick bridges
Students, budding engineers, and creative hobbyists alike from all over the world have enjoyed this classic physics and engineering activity.
Some of the results have been truly amazing!
Check out some of our favorite ones and get inspired to create your own at home.
Complex toothpick truss bridge
This complicated design featured on Science Project Ideas would definitely set a real challenge for even advanced toothpick bridge builders.
With a built-in road that's the perfect size for toy cars, it's just itching to be played with – but very carefully, of course!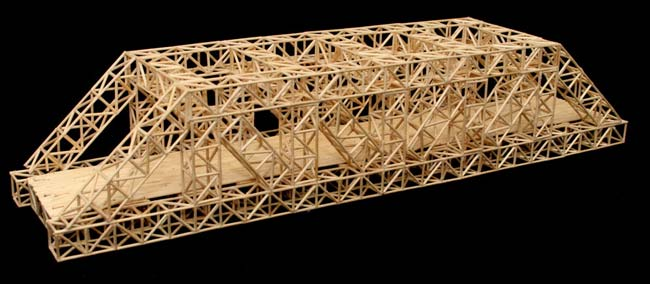 Toothpick bridge model with string
We love this suspension bridge by Garrett's Bridges because it adds an extra element of carefully placed lengths of string to support the structure.
Not only does it look incredible, but it's likely to be pretty strong too.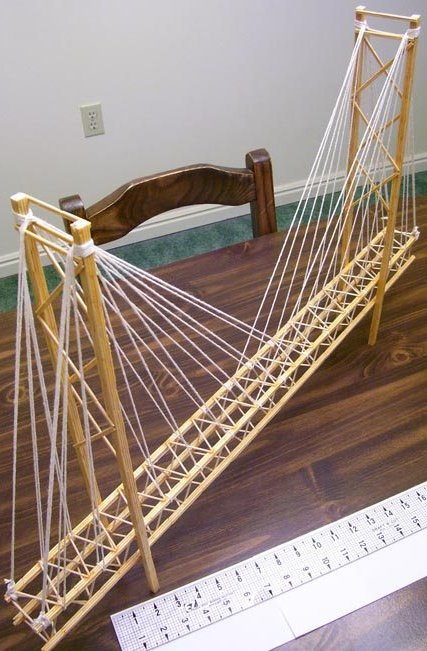 A simple and strong toothpick bridge
Artful chapter gives a great example of a straightforward design that could be easily copied by children and anyone who is less experienced in building with toothpicks.
It even passed their strength and play test too.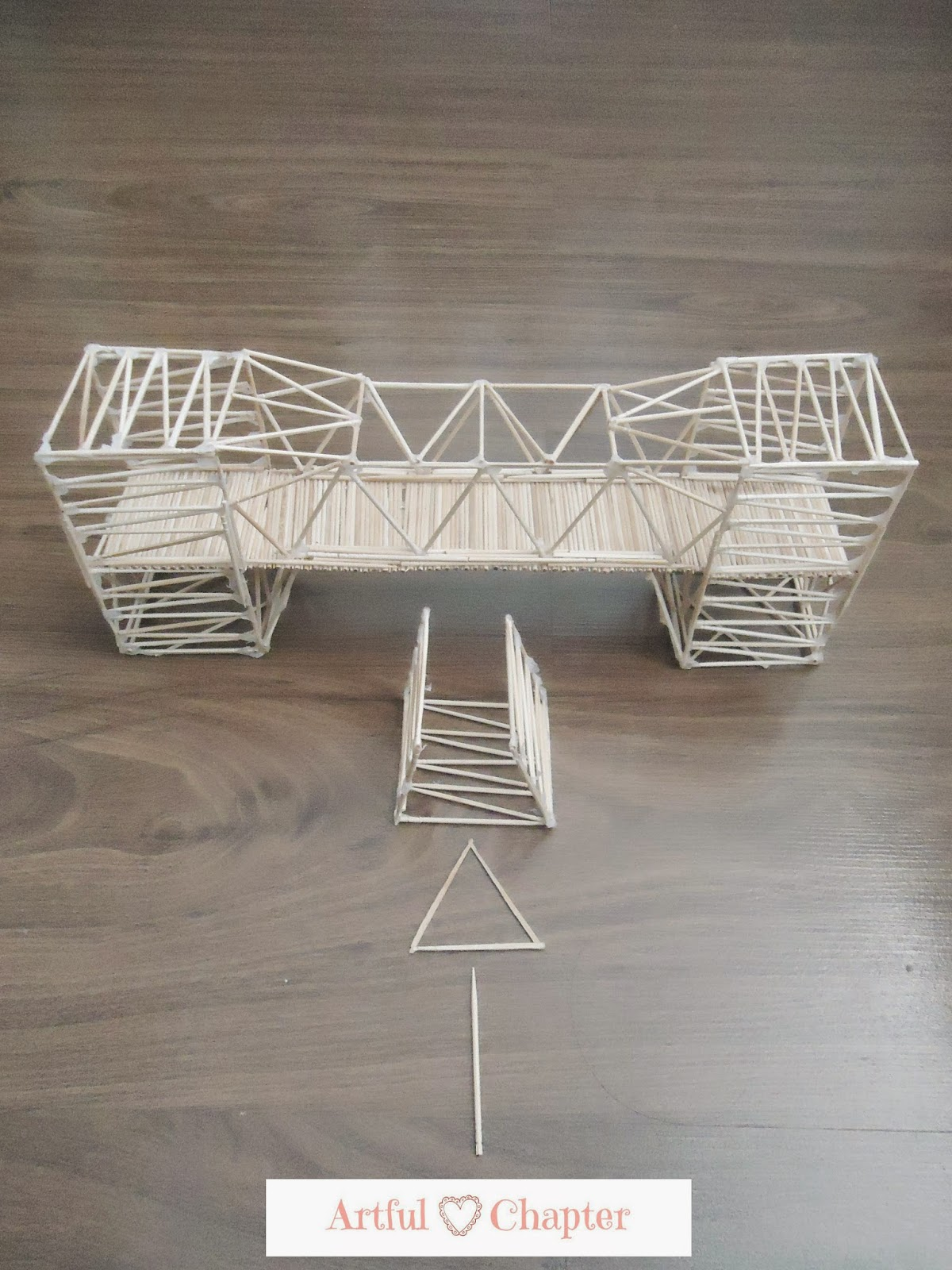 What is the biggest toothpick bridge ever built?
Whilst no one seems to hold an official title as the creator of the biggest or longest toothpick bridge so far built, take a look at this mind-blowing bridge by toothpick whiz Stan the Toothpick Man!
He built a 40ft replica of San Francisco's Golden Gate Bridge that he confidently states is the longest toothpick bridge currently in existence.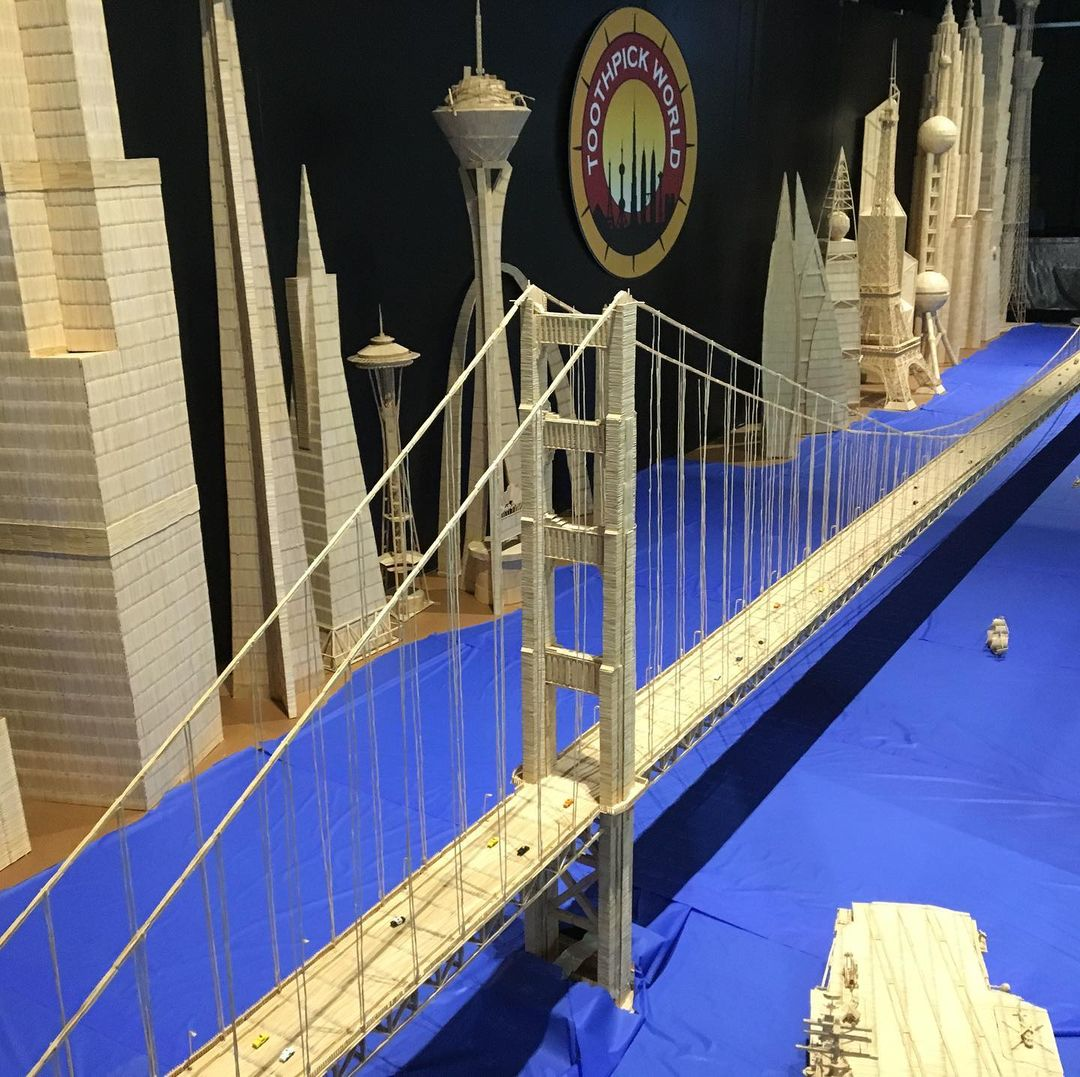 In fact, he even claims it's the longest toothpick structure of any kind in the world today!
Stan has also built a toothpick replica of London's famous Tower Bridge, as well as dozens of other international landmarks.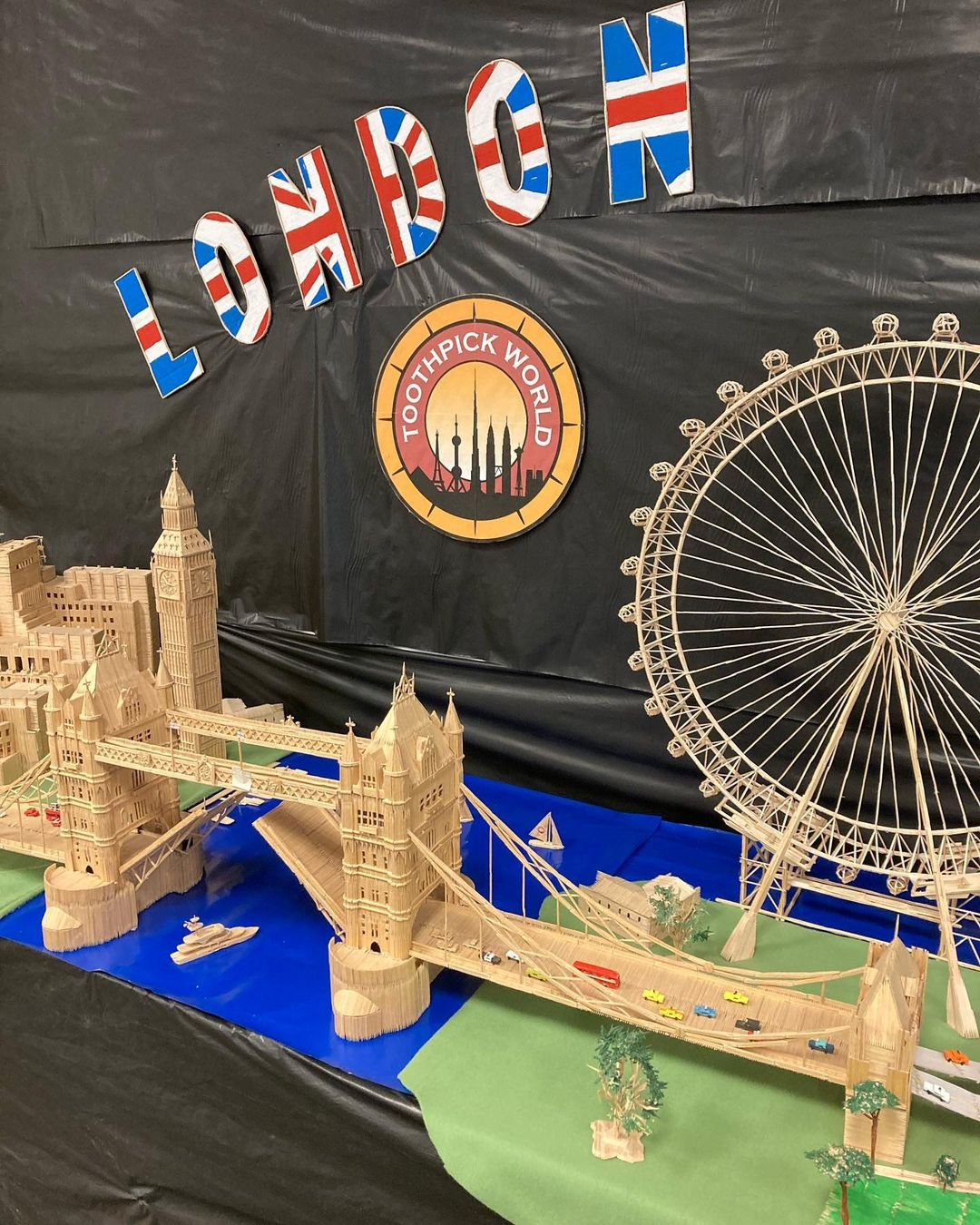 How much can a toothpick bridge hold?
If you're wondering how much weight a toothpick bridge can really hold, you may be very surprised by the answer!
With a little bit of care (and a lot of very cool physics), you can quite easily build a bridge that could hold some seriously heavy weights.
The toothpicks individually are not particularly strong, but when used together in a carefully designed structure, their combined strength allows them to bear a large amount of weight.
Even a small toothpick bridge (weighing as little as 100 grams) can have the capacity to bear the weight of 4-5 household bricks.
In fact, some school-grade toothpick structures weighing just a couple of hundred grams have successfully carried upwards of 40lbs in weight – that's around the same weight as a small to medium-sized family dog!
We hope this quick guide to building a toothpick bridge has given you plenty of ideas to get started!
Don't forget to grab your free printables for kids too – including coloring pages, activity packs and more.

Just tell us where to send you your secret access link below!
You might also like How to Make a Straw Roller Coaster.
Be sure to share your toothpick bridge creations with us @supastem #supastem.
Need low-cost, fun activity ideas?
Access the SUPA STEM Resource Vault featuring a growing library of fun activities, printables, and resources… completely free!